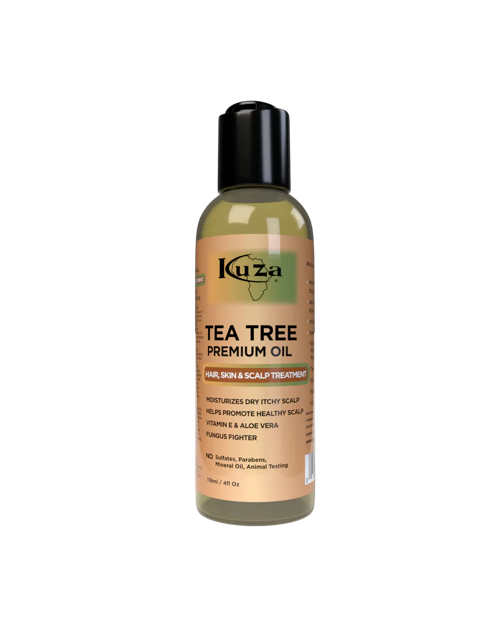 Soothe and Promote Hair Health With Kuza Tea Tree Premium Oil
Hollywood Beauty®, the mecca brand of #yourfav oils presents the premium collection: hair and skin oils dynamically driven to combact dry, flaky skin and scalp.
Soothes and Conditions
Calms itchy scalp
Promotes healthier scalp/skin
There are a variety of essential oils that can provide you with a healthy scalp, as well as nourished and clean skin, when used correctly. One of those oils is tea tree oil. Tea tree oil has a lot of health benefits that cannot be underestimated in the world of haircare and skincare, and that's why we sell Kuza Tea Tree Premium oil for anyone looking to take care of their hair and skin in a natural, healthy, and effective way.
How Tea Tree Oil Helps You Care For Your Skin and Hair
Tea tree oil is highly beneficial for hair care. It has three major aspects:
It cleans your scalp of dirt and grime, making you feel more comfortable and strengthening your hair.
It has antifungal properties, which means it can get rid of dandruff and similar problems.
It can promote hair growth and, by extension, prevent hair loss.
When using tea tree oil for hair, you can be sure that your hair is getting the care it needs. These properties are all granted just through a single essential oil, and your hair will never be so strong and clean. The same is true when you use tea tree skin oil to nourish and repair any damage done to your skin. Tea tree oil, specifically, can benefit your skin by:
Healing damage and providing help avoiding bacteria.
Soothing skin inflammation and irritation.
Helping to clean your skin while keeping it protected and free of bacteria, grime, and more due to having antibacterial, antimicrobial, and antifungal properties.
Tree oil's use in skin care is, thus, as varied and important as its use in hair care. With multiple ways to provide help, it's no secret that Kuza Tea Tree Premium Oil is the best whether you use it on your scalp, to clear up your irritated skin, or for both!
Keeping You Clean
Tea tree oil keeps your scalp and skin clean because it's antimicrobial. It'll kill any bacteria, fungi, or viruses that are in your hair or on your skin, giving you a deep, refreshing clean without giving you the same drawbacks as harsh chemical shampoo or detergent would. You'll be able to care for yourself and protect your skin from harm, all thanks to using a single reliable essential oil. These properties can even contribute to the hair strengthening and hair growth aspects of the oil, making it a versatile product with the power to help you care for your scalp. That's because many harmful microbes can harm your hair, making it weaker and thus less likely to grow up healthy and strong. It's also part of the reason why tea tree oil can help you recover from damage, especially as it'll keep your cuts free of bacteria and other harmful microbes.
Healing Dryness, Irritation, and Dandruff
One major reason to use tea tree oil for hair and skin both benefitting is to use it to prevent or heal dryness, irritation, dandruff, and more. It soothes you and can reduce the problem with its antifungal and antimicrobial properties. This is especially important if you use tree oil for an itchy scalp because it gets rid of dry, itchy, flaky dandruff. While dandruff isn't harmful, it's annoying and uncomfortable, and your scalp will be healthier and happier if you don't have to keep scratching it. Soothe yourself with tea tree oil, and see your dandruff disappear. Your hair will be conditioned and clean! For skin, this means that it can help you soothe down any itchy, irritated, or inflamed areas. Your inflammation will be able to disappear, and your skin will recover, leaving you feeling much more comfortable and confident than before.
Promotes Hair Growth
When it comes to scalp care, tea tree oil can promote stronger hair growth as it cleanses the scalp of bacteria and fungi while repairing the damage. This allows the hair to grow uninterrupted, with protection from things that may harm it. For these reasons, tea tree oil is often associated with growing strong and healthy hair.
FAQs:
Q: What Are the Benefits of Using Kuza Tea Tree Premium Oil for Hair and Skin?
A: Tea tree oil helps your skin and hair by providing a deep cleaning with antimicrobial and antifungal properties, which means that it'll kill bacteria and get rid of dandruff. As a result, you're left clean, healthy, and comfortable.
Q: How Often Should I Use the Tea Tree Oil on My Hair and Skin?
A: For the best results, you should use the oil once a day.
Q: Can the Tea Tree Oil Be Used on All Hair Types and Skin Types?
A: Yes! Anyone can use tea tree oil without worry, regardless of what type of hair or skin they have.
Q: How Does the Tea Tree Oil Contribute to Hair Health and Alleviate Itchy Scalp?
A: Tea tree oil kills and prevents the growth of fungi, the spread of bacteria, and the presence of other harmful microbes; your hair and scalp will be cleaner, stronger, less irritated, and able to grow without disruption.
Shop Kuza Today
If you're looking for skin or hair care products that are made of natural, high-quality ingredients from a company that understands that everyone deserves special care for their hair and skin, then look no further than Kuza Products. Experience the soothing and hair health benefits of Kuza Tea Tree Premium Oil. Shop now! To learn more about Kuza's commitment to quality and natural ingredients, visit our page. Have questions or need support? Reach out to our customer service team.
Why We Love It
Hollywood Beauty® Tea Tree Premium Oil is the #hollygrail! A staple in your oiling routine, this 4oz moisturizing oil is fortefied with Vitamin E and Aloe Vera to aid in that ultra-moisturizing mesmerizing sensation. This tea tree oil aids in combating dry, itchy scalp and can act as a fungus fighter in removing gunk from buildup. Great for the hair and skin, it's looking like a win! For best results, use daily.
Moisturizes
For hair and skin
Kuza® Hair Textures
Kuza® Looks
Ingredients
Tea Tree Oil
How to Use
Essential oils are potent, which means that if not used correctly, they can cause irritation. Here's how to use Kuza Tea Tree Premium Oil for the best possible results:

Test some of it on your skin first, just to make sure that you're not allergic. If it doesn't irritate you, you're good to go!

Use a small, diluted amount. Put it into your carrier oil, shampoo, conditioner, or lotion so that it doesn't overwhelm you.

Massage into your scalp and skin once a day. If you make this a daily routine, you'll have healthy hair and skin every day!
We work to ensure product information represents the best current information. Because products are being improved at times, actual product packaging and materials may contain more and/or different information than that shown on our website. We recommend that you do not solely rely on the information presented and that you always read labels, warnings, and directions before using or consuming a product. Content on this site is for reference purposes and is not intended to substitute for advice given by a physician, pharmacist, or other licensed health-care professional. You should not use this information as self-diagnosis or for treating a health problem or disease. Contact your health-care provider immediately if you suspect that you have a medical problem.