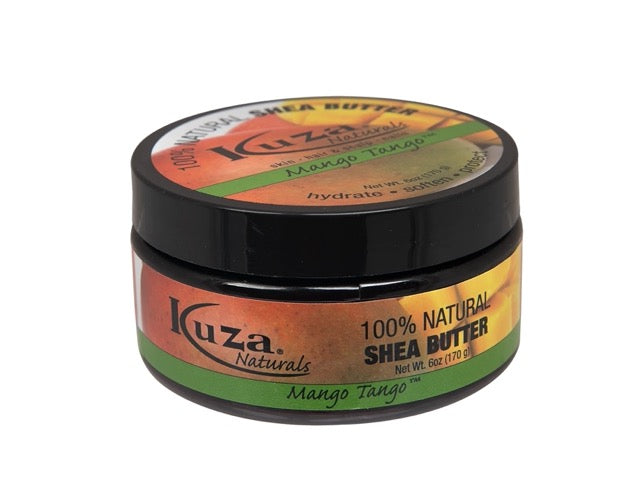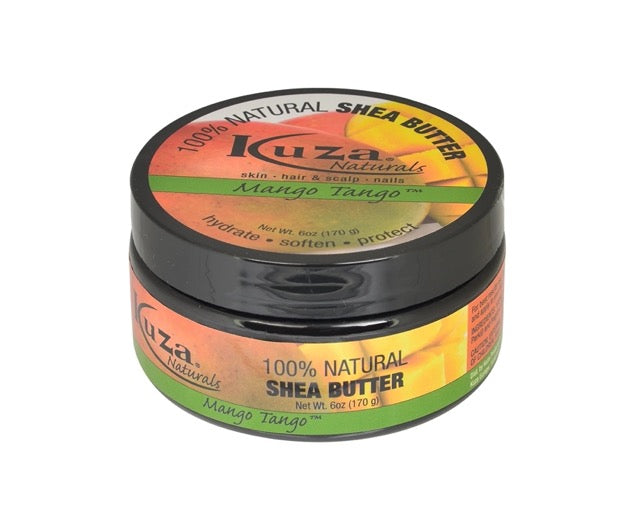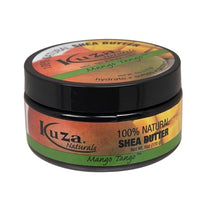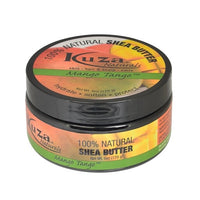 Kuza® Shea Butter Mango Tango
Moisturized, Healthier Skin and Hair with Kuza Shea Mango Tango
Take your #GlowGoals to the next level with the ultimate 3-in-1 hair and skin care formula.
The Mango in Kuza Mango Shea Butter is known for its moisturizing properties, while cocoa and shea butter provide a rich source of antioxidants that protect your skin and hair from damage.
These three core ingredients are perfectly balanced in a Shea Mango Tango symphony that nourishes and protects. The result is always healthier, more radiant skin and hair.
Start applying it today for softer, more moisturized skin and hair, with significant improvement in texture and shine.
Are you ready to take your #GlowGoals to the next level? Bask in moisturized skin, hair, and nails with Kuza® Shea Butter line! Each fruity flavored Shea Butter is forumulated with top tier ingridients to enrich dry skin, soothe cuticles, and improve managability of hair.
Store in a cool place.
Caution: For external use only.
Order Now for All-Rounded Skin and Hair Nourishment
How Kuza® Shea Mango Tango Works on Your Hair and Skin
Each of the three core ingredients was carefully handpicked due to its outstanding nourishment properties. They now work synergistically to provide comprehensive care for your skin and hair.
Mango Butter Nourishment
Mango butter is rich in numerous nutrients including Vitamins A, C, and E, which work together to rejuvenate the skin and enhance its radiance.
For your hair, mango butter acts as a natural conditioner. It provides deep hydration to your strands, and the resultant moisturization makes the hair soft, smooth, and manageable.
Shea Butter Nourishment
Shea butter is a moisturizing and protective ingredient. It has fatty acids that'll moisturize your hair and skin, as well as accelerate hair growth.
Other than that, it acts as a natural barrier against harsh winds and UV rays. You can thus count on it for effective protection against your skin damage.
Cocoa Butter Nourishment
Cocoa butter is a natural source of antioxidants, which are needed to combat the free radicals that cause premature aging. It further releases fatty acids and uses the nutrients to form a protective layer on the skin for moisture preservation.
The same properties will act on your strands and get your hair looking healthier, more vibrant, and full of life. This is exactly what you need when you're struggling with dryness, as it'll restore moisture and help to repair hair breakage.
Choose the 3-in-1 Nutrients and Save Money
How to Use Kuza® Mango Shea Butter for Skin and Hair Nourishment
Using Kuza® Shea Mango Tango is a simple and enjoyable part of your daily self-care routine. Here's how to get the most out of this dynamic skin and hair care product:
For Skin Care:
Start by cleansing your skin with your regular cleanser.
Take a small amount of Kuza Shea Mango Tango and rub it between your hands.
Apply it to your skin while massaging gently in a circular motion.
Allow it to absorb into your skin before dressing.
For Hair Care:
After washing and conditioning your hair, apply a small amount of Kuza Shea Mango Tango to your damp strands.
Massage the butter into your scalp and distribute it through your hair, moving from the roots to the tips.
Style your hair as desired. You can leave it in for added nourishment or rinse it out after 15-20 minutes.
Otherwise, to reap even more benefits from your skin and health care routines, consider pairing the Mango and Shea Butter with other Kuza products.
You could, for instance, use Kuza African Black Soap for a deep cleanse before applying the Mango Shea Butter. Or, for an extra hydration boost, follow up your daily routine with Kuza 100% Indian Hemp Oil.
Order Yours for Regular Hair/Skin Nourishment
You May Also Like
At Kuza, we believe in approaching skin and hair care holistically. Our range of products is thus strategically engineered to complement each other for optimal results.
Your Mango Shea Butter will especially go well with:
Kuza Naturals' African Black Soap
This natural skincare solution is perfect for cleansing your skin before applying the Mango Shea Butter. It removes impurities and prepares your skin to absorb the nourishing nutrients of the Mango and Shea Butter.
Kuza® Jamaican Black Castor Oil Shampoo:
For hair cleansing, this is the shampoo to use before applying the Shea Mango Tango. It's enriched with Jamaican Black Castor Oil, a natural ingredient known for its hair-strengthening and growth-acceleration properties.
Kuza© African Shea Butter Deep Penetrating Conditioning Treatment:
The ideal supplementary product when you want to give your hair some extra care. Use it on your hair after applying Kuza Mango Tango, and its deep conditioning treatment will make your strands much softer, shinier, and stronger.
Kuza® 100% Indian Hemp Oil:
Our Hemp Oil adds even more nutrients to your skincare routine. Apply it after the Mango Shea Butter to lock in moisture and alleviate inflammation.
FAQs
What are the benefits of using Kuza Mango Shea Butter for skin and hair?
Kuza Mango Shea Butter provides numerous benefits for both skin and hair. It deeply moisturizes dry skin, leaving it soft and supple. The nourishing properties of shea butter, mango, and cocoa additionally improve hair manageability by making it smoother, stronger, and healthier.
How often should I use the Shea Mango Tango?
For best results, it is recommended to use Kuza Mango and Shea Butter daily. Apply a small amount to the desired areas of your skin or hair and then gently massage until fully absorbed.
Can Kuza Mango Shea Butter be used on all skin types?
Yes, our Shea Mango Tango is suitable for all skin types. Whether you have dry, oily, or sensitive skin, this product can provide the moisturization and nourishment your skin needs.
How does Kuza Mango and Shea Butter contribute to skin and hair health?
Kuza Mango Shea Butter is enriched with shea butter, mango, and cocoa, all of which are renowned for their nourishing properties. Shea butter helps restore and maintain the skin's natural moisture barrier, thereby giving you a healthier complexion. Mango and cocoa, on the other hand, contain vitamins and antioxidants that nourish the hair and improve its texture.
Why We Love It
They say it takes two to tango, but Mango Tango gets the job done by itself! This ultra-moisturizing shea butter is formulated with enrichning ingredients to have your hair, skin and nails shining like never before. This all-in-one shea butter coats the skin to glow, moisturizes the hair to grow, and keeps your nails ready-to-go! For best results, use daily.
Thick and rich Shea Butter is enriched with all the essential vitamins needed to hydrate and rejuvenate all types of skin
Leaves your skin, hair and nails nourished and enriched.
Benefits of Our Mango Shea Butter
All-Rounded Hair and Skin Care: No need to separately buy shea butter, mango butter, and cocoa butter. Kuza Mango Shea Butter has integrated all three in a perfectly balanced all-natural formula. The resultant nourishment universally extends to all types of hair and skin.
Prevents Signs of Aging: Packed with vitamins A, E, C, and K, and polyphenols, the mango ingredient is like a time machine for your skin. It fights off the free radicals that drive premature aging. Your collagen synthesis is also boosted, improving skin texture and elasticity. The result is youthful radiance, with firmer skin and less noticeable wrinkles.
Moisturizes the Skin: Shea butter, another key ingredient, is a renowned moisturizer. It uses its fatty acids to restore lipids and hydrate the skin, while the accompanying linoleic and oleic acids boost the skin's absorption of these nutrients.
Supports Hair Growth: Cocoa butter is the third star in the Shea Mango Tango, and its principal role is to nourish the hair while soothing and supporting scalp health. Thanks to its antioxidant and humectant properties, you get to maintain healthy oil production, minimize dandruff, and strengthen the hair shaft.
Buy Now To Reap The Hair & Skin Care Benefits
Kuza® Hair Textures
Kuza® Looks
Ingredients
Shea Butter
How to Use
For Hair: Use a small amount of shea butter sectioning off hair. Massage product onto scalp working in a clockwise motion.

For Skin: Apply as needed massaging into the skin. For best results, use daily. Store in cool, dry place.

For Nails: Using a dime sized amount per finger, distribute product evenly around the finger working in a counter clockwise motion.
We work to ensure product information represents the best current information. Because products are being improved at times, actual product packaging and materials may contain more and/or different information than that shown on our website. We recommend that you do not solely rely on the information presented and that you always read labels, warnings, and directions before using or consuming a product. Content on this site is for reference purposes and is not intended to substitute for advice given by a physician, pharmacist, or other licensed health-care professional. You should not use this information as self-diagnosis or for treating a health problem or disease. Contact your health-care provider immediately if you suspect that you have a medical problem.