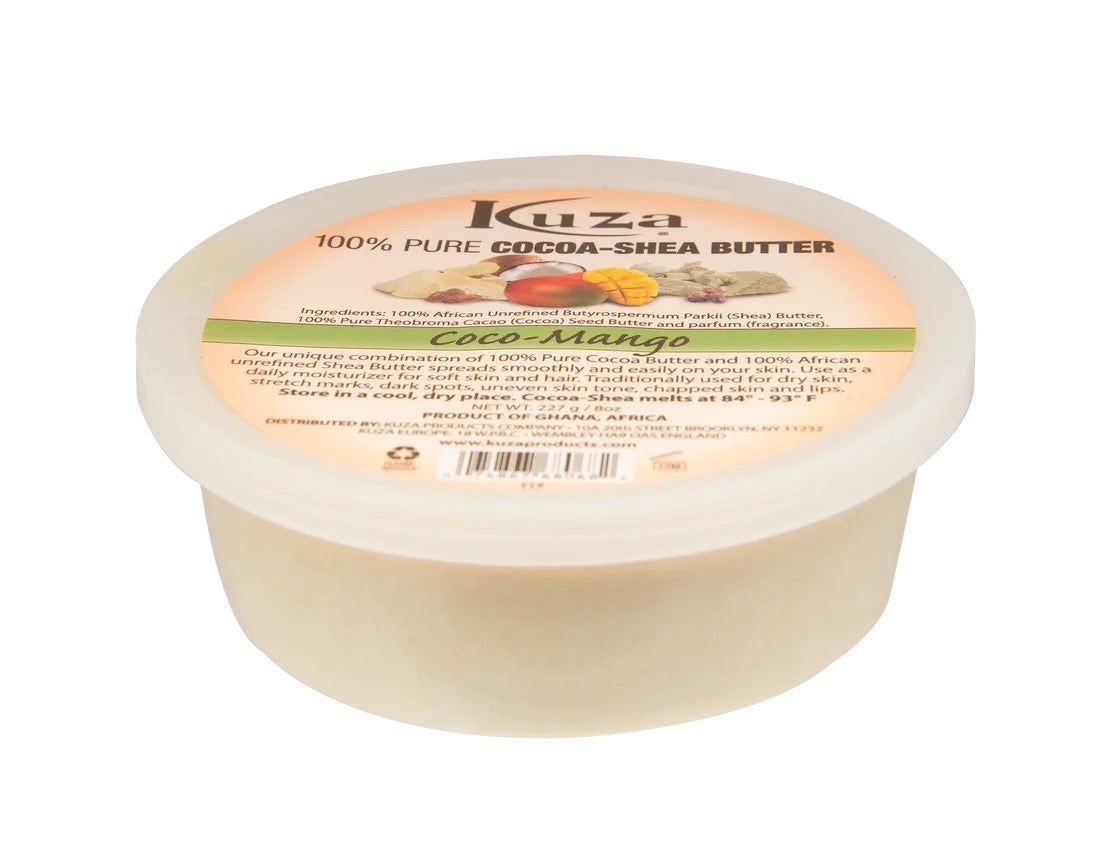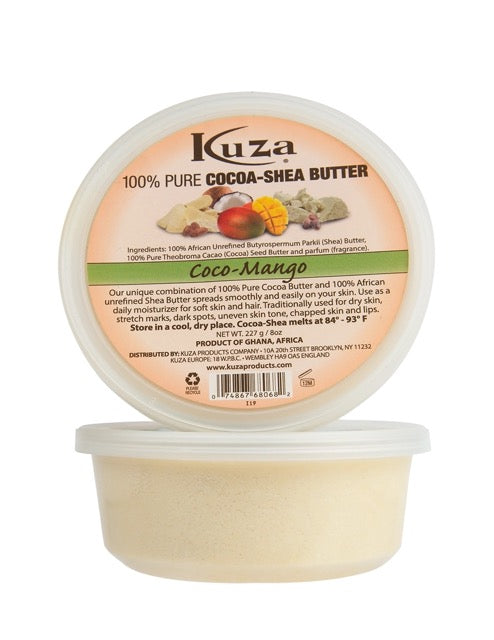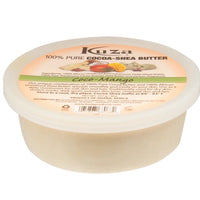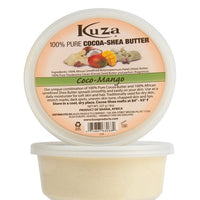 Kuza® Shea Butter Coco-Mango
Are you ready to take your #GlowGoals to the next level? Bask in moisturized skin, hair, and nails with Kuza® Shea Butter line! Each fruity flavored Shea Butter is forumulated with top tier ingridients to enrich dry skin, soothe cuticles, and improve managability of hair. Store in a cool place. Caution: For external use only.
There are many products out there that can provide important nourishment and moisturization to both your hair and skin when they're on their own. When you combine them, they can make something both effective and efficient at promoting skin and hair health through their added benefits. This is the case with Kuza's Shea Butter Coco-Mango, a product that's designed to give high-quality results for everyone who incorporates it into their daily self-care routine.
How It Works
Our coco-mango shea butter works because the individual ingredients -- shea butter, cocoa seed butter, and mango -- are all individually useful for helping your skin and hair. These ingredients are excellent for providing moisturization, fighting damage, and giving you a healthy, stunning, all-natural glow, making Shea Butter Coco-Mango an effective tool for both skincare and haircare. You're not just getting one good product but the combined force of three great products working in tandem!
Shea Butter Benefits for Skin and Hair
Shea butter is known to be very moisturizing. It can last several hours with a single application, ensuring that your skin stays hydrated. Shea butter has also been found to reduce inflammation and skin irritation. This all works equally well for your scalp, as a dry, itchy, or irritated scalp can be soothed with the application of shea butter. It adds moisture to your hair and prevents hair damage, frizz, and even split ends!
Cocoa Seed Butter Benefits for Hair and Skin
Cocoa isn't just delicious. It's also surprisingly healthy, especially if you remove it from the context of sugary chocolate. Cocoa butter has an array of benefits for your hair and skin, which is why it's used in so many skincare and haircare products, as well as various cosmetics. These benefits include:
Healing damage, such as discoloration, scars, and sun damage.
Soothing your skin against irritation and inflammation.
Boosting your blood circulation.
Adding hydration to your skin.
Cleaning your skin of grease and dirt.
Most of this is done through moisturizing your skin, thanks to the high-fat content, while also providing a lot of antioxidants, which can repair all kinds of damage. When used in hair, cocoa butter is equally effective for:
Combating hair loss, which is done by strengthening the hair follicles.
Acting as a conditioner due to its moisturizing attributes.
Making your hair stronger, protecting it from being damaged by things such as sunlight.
Making your hair more voluptuous, thickening it when applied.
Making your hair better at growing through cleaning the scalp, washing away damaging oils, and providing nourishment.
Mango
Mango is healthy for you, both when you eat it normally and when you apply it topically. A diet of mango is great for your skin's health, and this is because it's chock full of necessary vitamins and minerals which are necessary to live a happy, healthy life. These vitamins work just as well when the mango is applied topically as it is in our whipped mango shea butter. Topically applied mango can benefit your skin and hair by:
Hydrating your skin.
Healing damage through antioxidants.
Reducing sun damage, including wrinkles.
Protecting your skin against free radicals.
Conditioning your hair.
Fighting dandruff.
Making your hair shine.
All of this is because of mango's deeply nourishing and nutritional properties, which your skin and hair crave. Your skin and hair can benefit greatly from something as simple as applying mango oil to the specified area and letting it work its wonders.
How to Use Kuza Shea Butter Cocoa-Mango
For the best results, you need to use the coco-mango shea butter correctly. Luckily, Kuza's products are all designed to be easy to use, meaning that you can incorporate this Shea Butter Cocoa-Mango into your daily skincare and haircare routine without any hassle. Using it every day will make your skin and hair as healthy as can be, giving you a natural glow while also keeping you protected and moisturized.
For your skin, all you need to do is massage it into your skin as needed. From there, it'll do all you need it to and get the hydration and nourishment you need.
For hair, the process is much the same; just massage it into your scalp and hair in a clockwise motion. You should only use a small amount at a time to both preserve the butter and not overwhelm your hair with the oils in the product.
For the best possible use, the butter should be stored in a cool, dry place. Distribute evenly, and only use as much as you need at each time. Kuza's Shea Butter Coco-Mango is effective and long-lasting, so a little will be able to go a long way, allowing you to get more use out of it without worrying about your skin or hair getting dry and damaged.
FAQs:
Q: What Are the Benefits of Using Kuza Shea Butter Coco-Mango for Skin and Hair?
A: Kuza Shea Butter Coco-Mango uses the combined strength of shea butter, cocoa butter, and mango to give your skin and hair long-lasting, hydrating protection. It can repair skin and hair damage, make you feel softer and smoother, and keep you looking and feeling your best all day.
Q: How Often Should I Use the Shea Butter Coco-Mango?
A: Using Shea Butter Coco-Mango daily will give the best results.
Q: Can the Shea Butter Coco-Mango Be Used on All Skin Types?
A: Yes! Anyone can use our shea butter for their skin or hair!
Q: How Does the Shea Butter Coco-Mango Contribute to Skin and Hair Health?
A: Each ingredient is full of nutrients and fats, which keep you hydrated while providing things your skin needs, such as antioxidants or Vitamin E.
Buy Kuza Shea Butter Coco-Mango Today
If you're looking for long-lasting hydration and protection with the use of a product made with all-natural ingredients designed to make you feel good and smell good all day long, then experience the moisturizing and hair manageability benefits of Kuza Shea Butter Coco-Mango. Shop now! Have questions or need support? Reach out to our customer service team, learn more about Kuza's commitment to quality and natural ingredients, and stay updated with the latest news and updates from Kuza.
Why We Love It
Go Loco with Coco Mango! This fruity divine is sure to blow your mind! It is perfect for your all day, everyday skin, hair, and nail needs.
Key ingredients house this product giving you a much needed glow!
It soothes the driest of skin, moisturizes and improves managability of hair strands, and keeps your nails popping! For best results, use daily.
Thick and rich Shea Butter is enriched with all the essential vitamins needed to hydrate and rejuvenate all types of skin
Leaves your skin, hair and nails nourished and enriched.
Kuza® Hair Textures
Kuza® Looks
Ingredients
How to Use
For Hair: Use a small amount of shea butter sectioning off hair. Massage product onto scalp working in a clockwise motion.

For Skin: Apply as needed massaging into the skin. For best results, use daily. Store in cool, dry place.

For Nails: Using a dime sized amount per finger, distribute product evenly around the finger working in a counter clockwise motion.
We work to ensure product information represents the best current information. Because products are being improved at times, actual product packaging and materials may contain more and/or different information than that shown on our website. We recommend that you do not solely rely on the information presented and that you always read labels, warnings, and directions before using or consuming a product. Content on this site is for reference purposes and is not intended to substitute for advice given by a physician, pharmacist, or other licensed health-care professional. You should not use this information as self-diagnosis or for treating a health problem or disease. Contact your health-care provider immediately if you suspect that you have a medical problem.