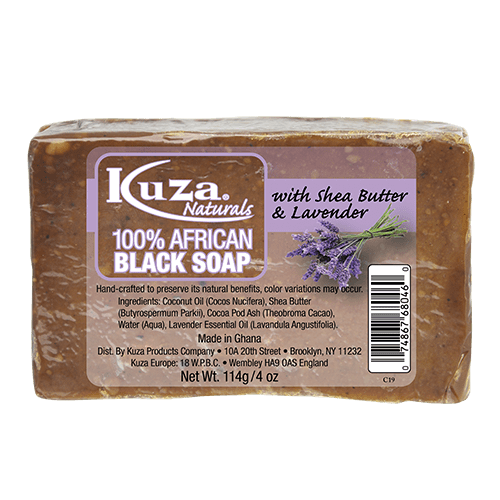 Kuza® Naturals 100% African Black Soap with Shea Butter and Lavender
If you're looking for a soothing, moisturizing, great-smelling soap that's made out of all-natural ingredients with proven track records for both skincare and haircare, then you don't have to look any further than our African Black Soap with lavender and shea butter. It soothes, it cleanses, and it's perfect for everyone.
Kuza Textures
Some products are designed with a specific hair texture in mind, which makes them incompatible with anyone outside of that demographic. At Kuza, we believe that everyone should have access to all-natural haircare products that work with their hair texture so that we can all live our best, most comfortable, and healthiest lives. That's why our shea butter black African soap can be used for all hair textures. Anyone can use this soap to clean and moisturize their hair, regardless of what type of hair they have. It's especially helpful for combating frizz and getting rid of tangles and knots.
Kuza Looks
Having healthy skin and hair isn't just about feeling your best (although that's important, too); it's also one way to look your best. With our shea butter black African soap, you can achieve soft, glowing skin and smooth, undamaged hair. Daily usage means daily results, and those results will work to enhance your natural beauty and keep you safe from sun damage, acne, irritation, and more. No all-natural daily beauty routine is complete without it!
Ingredients
We only use 100% all-natural ingredients, and our shea butter black African soap is made of ingredients you can trust. These ingredients combined make this soap something anyone can use to take care of their skin and hair without worrying about dryness, irritation, or damage.
The main components are African black soap and shea butter, both of which play big roles in making your skin and hair stay moisturized, safe from damage, and free of inflammation and irritation. Shea butter is known to be an emollient, which means it soothes and hydrates your skin. Meanwhile, the combined strength of coconut oil and cocoa pod ash makes our soap great at providing you with antibacterial and anti-inflammatory nutrients.
The addition of African lavender provides a calming and soothing effect while also providing nutrients that your skin and hair need to be healthy and strong. Lavender even has some use in helping your hair grow without damage or grease, making it a valuable oil to add to any shampoo or conditioner. For more haircare and skincare options with natural, healthy ingredients, explore the full range of our hair care and skin care products today.
Shop Kuza Today
Anyone who wants an all-natural soap made with reliable ingredients that work hard to keep you clean and healthy should consider picking up some African Black Soap with Shea Butter & Lavender. Give your hair and skin the care and help it deserves to stay hydrated and undamaged, no matter what life throws at you. This soap works for anyone and everyone, and once you try it, you'll never want to go back to harsh chemical soap again!
For more moisturizing, rejuvenating products, check out our other soap varieties, such as the Kuza Naturals 100% African Black Soap with Shea Butter and Tea Tree Oil or the Kuza Naturals 100% African Black Soap with Shea Butter and Lemongrass.
FAQ
What is Shea Butter Black African Soap?
Shea Butter Black African Soap is a type of soap that is made from the ash of locally harvested plants and barks such as plantain, cocoa pods, palm tree leaves, and shea tree bark. It is a natural source of vitamins A, E, and iron. Our soap is enhanced with Shea Butter for added moisturizing benefits and Lavender for its calming scent.
How does Shea Butter Black African Soap benefit the skin?
Shea Butter Black African Soap has several benefits for the skin. It helps to cleanse and exfoliate the skin gently, removing impurities without stripping the skin of its natural oils. Shea Butter provides intense moisturization, leaving the skin feeling soft and nourished. The soap is also known to help with various skin conditions, including acne, blemishes, and eczema.
Can Shea Butter Black African Soap be used on the hair?
Yes, Shea Butter Black African Soap can be used on the hair. It helps to cleanse the hair and scalp, removing product buildup and excess oil. The Shea Butter in the soap provides moisturization, leaving the hair soft, shiny, and manageable.
Is Shea Butter Black African Soap suitable for all skin types?
Yes, Shea Butter Black African Soap is suitable for all skin types. It is gentle enough for daily use and can be beneficial for both oily and dry skin types. However, as with any skincare product, it's always a good idea to do a patch test first to ensure it doesn't irritate your skin.
How often should I use Shea Butter Black African Soap?
Shea Butter Black African Soap can be used daily for both skin and hair. However, the frequency of use may depend on your individual needs and skin or hair type. If you have sensitive skin or dry hair, you may want to use it less frequently.
Where can I buy Shea Butter Black African Soap?
You can buy our Shea Butter Black African Soap directly from our website. Visit our product page to place an order. We offer secure payment options and fast shipping.
Why We Love It
Thanks to the combined strength of coconut oil, cocoa pod ash, African lavender, and shea butter, black African soap has various beneficial properties that make it an excellent option for anyone. Our soap is made by a team of passionate experts on skincare, haircare, and natural beauty.
With the moisturizing properties of shea butter, the calming and healing properties of lavender, and the anti-inflammatory and antibacterial properties of cocoa pod ash and coconut oil, just a little bit of this soap will go a long way toward giving you the healthiest skin and hair you can have. You can trust this soap to clean deeply without irritating your skin or scalp. Your skin will be soothed, hydrated, and kept protected after just one use of our shea butter black African soap with African lavender.
Kuza® Hair Textures
Coily|Curly|Wavy
Kuza® Looks
Braid-Outs|Braids|Buns|Edges|Locs|Slick Down|Straightened/Silk Pressed|Twist-Outs|Twists|Updo|Wash 'n Go|Waves
Ingredients
Coconut Oil|Shea Butter|Cocoa Pod Ash
How to Use
This shea butter black African soap is useful for both haircare and skincare. Anyone can use it, and using it every day is both easy and beneficial. All you have to do is lather the soap onto your hands or on a damp washcloth. From there, just massage it into your skin and hair. Be sure to avoid contact with your eyes or mouth!

You can use this soap as part of your daily skincare and haircare routine to have healthy, smooth, glowing skin and strong, smooth hair without having to rely on harsh, damaging chemicals. A little goes a long way with this soap, which means that it's bound to last and keep you feeling good for a while.

We work to ensure product information represents the best current information. Because products are being improved at times, actual product packaging and materials may contain more and/or different information than that shown on our website. We recommend that you do not solely rely on the information presented and that you always read labels, warnings, and directions before using or consuming a product. Content on this site is for reference purposes and is not intended to substitute for advice given by a physician, pharmacist, or other licensed health-care professional. You should not use this information as self-diagnosis or for treating a health problem or disease. Contact your health-care provider immediately if you suspect that you have a medical problem.