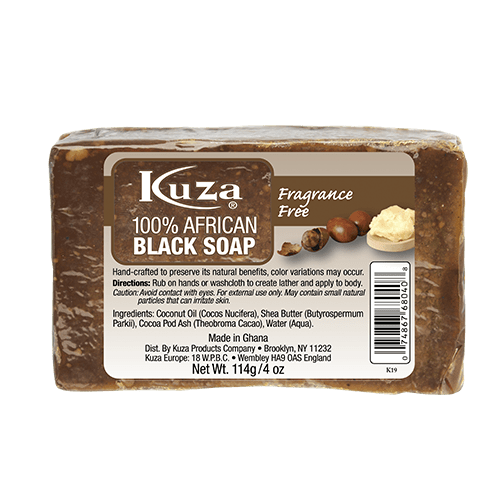 Kuza® Naturals 100% African Black Soap Fragrance Free
Experience the Magic of Fragrance-Free 100% African Black Soap for Your Skin
Kuza 100% African Black Soap provides a silky smooth lather as it cleanses the skin. It combines Shea Butter's moisturizing properties with the therapeutic properties of coconut oil and cocoa pod ash to help relieve acne, oily skin, clear blemishes, prevent dry skin, rashes and body odor while enhancing beautiful skin.

Unlike many other products in the market, our African Black Soap is also fragrance-free. This makes it perfect for anyone with sensitive skin or nose, as it lathers without any irritation from added fragrances.

Embrace the revitalizing power of nature on your skin with Kuza Fragrance-Free 100% African Black Soap

Product of Ghana, Africa.
How it's Made
Burning: The soap-making journey commences with the burning of Cocoa Pods to generate ash, which is subsequently combined with water and sifted to eliminate any impurities.
Cooking: The resultant solution is blended with Coconut Oil and Shea Butter. It's then heated until it achieves an optimal consistency.
Saponification: As the heating process continues, the mixture undergoes a chemical transformation known as saponification. The fats (Coconut Oil and Shea Butter) react with the base (Cocoa Pod Ash solution) to create soap.
Curing: Once the soap mixture attains the desired consistency, it's transferred into molds and left to cure. This process could stretch for several weeks, during which time the soap hardens and lowers its pH.
The end product is a 100% natural, unscented soap that is gentle on the skin but highly effective in cleansing and healing.
Every bar of Kuza African Black Soap is a testament to the power of nature and the wisdom of our ancestors.
Primary Ingredients
Coconut Oil (Cocos Nucifera): Known for its exceptional moisturizing and antimicrobial properties. It alleviates dry skin and protects it from harmful bacteria.
Shea Butter (Butyrospermum Parkii): Provides deep nourishment to the skin. It's rich in fatty acids and vitamins that soften the epidermis. What's more, you get anti-inflammatory and healing nutrients, which are essential in conditioning, toning, and soothing your skin.
Cocoa Pod Ash (Theobroma Cacao): A natural source of Vitamin C, Magnesium, and antioxidants. It manages to detoxify the skin, clear blemishes, and balance skin oil production.
How to Use Our Black African Soap for the Best Skin Care Results
Step 1: Wet Your Skin and the Soap
Start by hydrating your skin with warm water, which should open up your pores for deep penetration and cleansing. Remember to wet the soap as well.
Proceed by rubbing the soap in your hands to create a lather. Our African Black Soap is renowned for its creamy lather that cleanses while sealing moisture into the skin.
Step 3: Massage the Lather onto Your Skin
Gently apply the lather to your skin using circular movements. This helps to dislodge dirt and dead skin cells, while also stimulating blood circulation for healthier skin.
Step 4: Let the Soap Do Its Magic
Let the lather sit on your skin for several minutes as the soap's nutrients work their magic. The Shea Butter nourishes and conditions your skin, Coconut Oil delivers antibacterial benefits, while Cocoa Pod Ash exfoliates and revitalizes your skin.
Step 5: Rinse Off Thoroughly
Wash off the lather with warm water to remove all the soap residues.
Step 6: Dry and Moisturize Your Skin
Gently pat your skin dry with a clean towel, and then apply a Kuza moisturizer to seal in the hydration.
For the best outcome, we recommend using Kuza 100% African Black Soap daily. But, if your skin is sensitive, try limiting usage to a few times a week and then gradually increase frequency as the skin adjusts to the formula.
Tips for Maximizing the Benefits of Kuza Black African Soap
Storage: Prolong your soap's lifespan by keeping it dry between usages. Refrain from leaving it submerged in water.
Application Medium: For an optimal cleansing and exfoliating experience, apply the soap with a loofah or washcloth.
Patch Test: If it's your first time using the soap, perform a patch test on a small skin area to check for any potential reactions.
Skin Responsiveness: Every individual's skin is unique. If yours feels excessively dry or irritated, consider reducing the frequency of soap use.
Remember, the secret to achieving radiant skin with Kuza 100% African Black Soap lies in consistency. Make it a part of your regular shower routine to witness a significant improvement in your skin's texture and complexion.
Grab the opportunity and let nature nurture your skin.
You Might Also Like
Here are three other products in the Kuza skincare range that complement our 100% African Black Soap:
This product is loaded with vitamins and fatty acids that deeply hydrate your skin and sustain its texture. It's even topped off with Borututu, a medicinal plant from Africa with antioxidant properties that contribute to skin detoxification.
This is a variant that combines the potent cleansing properties of African Black Soap with the calming influence of Lavender. It's a perfect choice for those seeking a relaxing skincare regimen.
This soap is a fusion between our original African Black Soap, Shea Butter, and Tea Tree Oil. It's particularly ideal for people with skin issues, as they'd benefit significantly from the antiseptic attributes of Tea Tree Oil.
Whether you're looking to soothe, moisturize, cleanse, nourish, or rejuvenate your skin, Kuza has just the perfect product.
Experience the magic of Kuza skincare today.
Why We Love It
All Natural, Zero Synthetics
What sets Kuza's 100% African Black Soap apart is our commitment to purity and authenticity. Handcrafted in Ghana using a traditional recipe, the soap remains completely natural, free from artificial additives and fragrances. This keeps it gentle on even the most delicate skin types.
Proven Skin-Nourishing Formula
The formula in our black soap has been used for centuries across West Africa to cleanse and nourish the skin. Its natural ingredients include plantain skins and cocoa pods, which are rich in vitamins and antioxidants. These nutrients help to rejuvenate the skin, fight against premature facial lines and wrinkles, as well as alleviate skin discolorations and blemishes.
Silky Smooth Lather
Unlike ordinary soaps that generate a dense, creamy foam, Kuza's African Black Soap creates a silky smooth lather that tenderly caresses your skin. The lather is not just for texture – it's a sign of the high concentration of shea butter in our soap, which deeply moisturizes the skin as it cleanses.
Naturally Therapeutic
The inclusion of Coconut Oil, which is renowned for its anti-inflammatory and antimicrobial properties, aids in soothing and rejuvenating the skin.
Alongside that is Cocoa Pod Ash, which is abundant in antioxidants. Its role is to shield the skin against damage and create a vibrant complexion.
No Added Fragrances
We're in the soap business, not the perfume business. So, we keep our formula simple, with no additives or fragrances. You thus get to enjoy a pure, natural cleansing experience without worrying about any potential irritation or allergy rashes.
Kuza® Hair Textures
Kuza® Looks
Ingredients
Coconut Oil|Shea Butter|Cocoa Pod Ash
How to Use
Step 1: Wet Your Skin and the Soap

Step 2: Work Up a Lather

Step 3: Massage the Lather onto Your Skin

Step 4: Let the Soap Do Its Magic

Step 5: Rinse Off Thoroughly

Step 6: Dry and Moisturize Your Skin

We work to ensure product information represents the best current information. Because products are being improved at times, actual product packaging and materials may contain more and/or different information than that shown on our website. We recommend that you do not solely rely on the information presented and that you always read labels, warnings, and directions before using or consuming a product. Content on this site is for reference purposes and is not intended to substitute for advice given by a physician, pharmacist, or other licensed health-care professional. You should not use this information as self-diagnosis or for treating a health problem or disease. Contact your health-care provider immediately if you suspect that you have a medical problem.