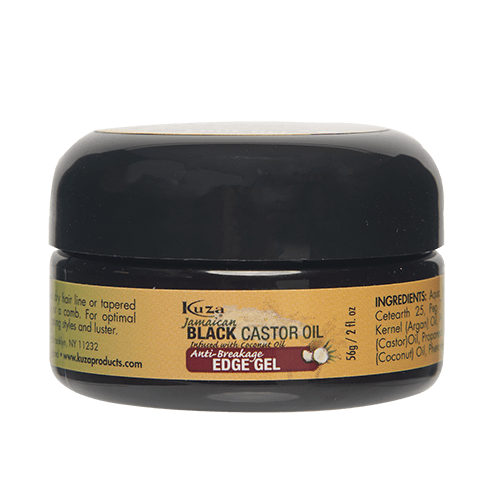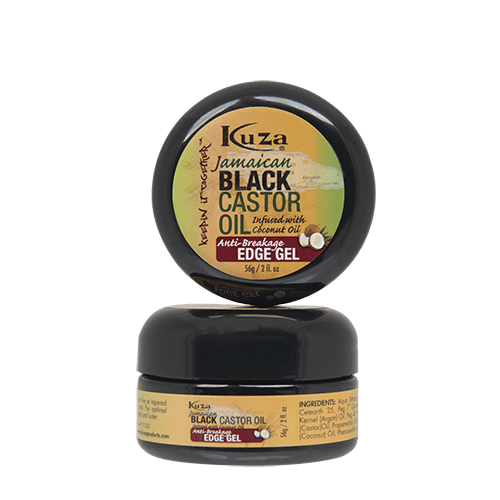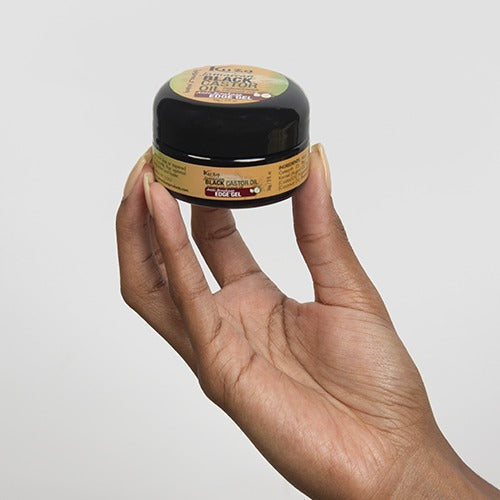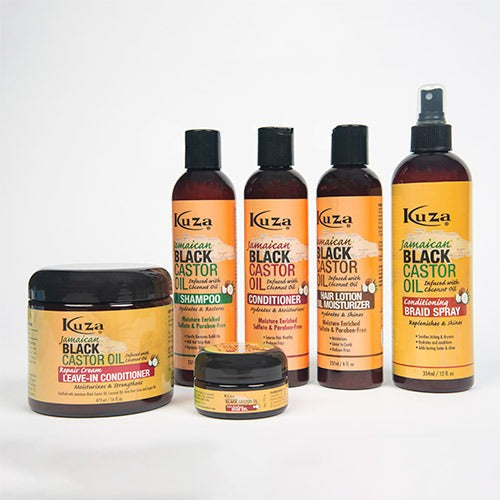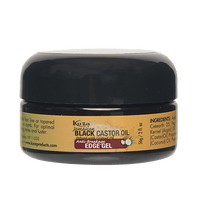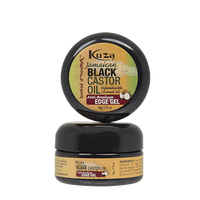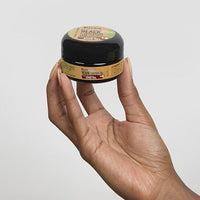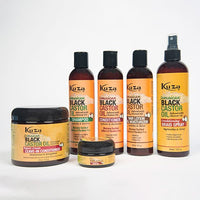 Achieve Sleek, Controlled Edges with Kuza® Jamaican Black Castor Oil Edge Gel
Kuza® Jamaican Black Castor Oil Anti-Breakage Edge Control Gel is the right choice for sleek edges and a stylish look. You don't need to battle unruly edges ever again, when you use this gel for edge control. Easily hold your edges in place for hours, while you add shine and moisture to your hair.
This formula is infused with some great ingredients, including Jamaican Black castor oil, coconut oil, aloe vera juice and argan oil. They all  work together to leave your edges not just controlled but fully conditioned, so they look healthier and shinier than ever.
It's the perfect way to tame down tapered cuts, edges, and nape-sides for both natural and relaxed hairstyles, so you can more easily have the style you want, and keep it controlled and looking its best all day long.
The Benefits of Using Kuza® Jamaican Black Castor Oil Anti-Breakage Edge Gel
You don't want fly-away hairs and unruly edges to take away from the beauty of your style. With Kuza® Jamaican Black Castor Oil Anti-Breakage Edge Control Gel, that won't be a problem. This great formula ensures your hair will stay put, and helps you control fly-aways and uneven edges, so you can get the look that's perfect for you. You can expect our edge control gel to:
Tame and control your unruly edges, to hold them in place.
Moisturize and add shine to keep your hair looking great for hours.
Smooth your edges & control frizz and fly-away hairs for a polished look.
Add beautiful shine and luster to your hair, along with intense moisture.
Not flake or feel greasy, so you can use it with confidence.
Having the right products to keep your hair beautiful and protect it from harm is important. Stay updated with the latest news and updates from Kuza®.
Ingredients
Aloe Vera Juice|Argan Oil|Coconut Oil|Jamaican Black Castor Seed Oil Aloe vera juice contains a lot of moisture, and can help you keep your hair healthy, shiny, and soft while smoothing it and keeping it under great control all day long. Argan oil has been used for decades to soften and hydrate hair, and in combination with the other oils in our edge control gel you can get the soft, luxurious hair you're looking for. Coconut oil is another time-tested way of softening and moisturizing hair, while giving it a sleek, shiny appearance that will make flyaways a thing of the past. Jamaican black castor seed oil is a powerful moisturizer, especially when coupled with the other ingredients in our edge control gel, so you can have great-looking hair that stays in place. We're dedicated to making sure you get the best possible products we can provide. Learn more about Kuza's commitment to quality and natural ingredients.
FAQs
What are the benefits of using Kuza® Jamaican Black Castor Oil Anti-Breakage Edge Gel?
The biggest benefits of using this gel are the lack of flyaways and frizz, the smooth, even edges, and the soft, luxurious feeling of your hair. You can enjoy those benefits every day when you use our edge control gel.
How often should I use the edge gel?
You can use our edge control gel every day during your normal styling and hair routine. If you need a little extra hold at any time during the day, you can also use some extra gel to give you the look you're going for and the control you need.
Can the edge gel be used on all hair types?
Kuza® Jamaican Black Castor Oil Anti-Breakage Edge Control Gel can be used on all hair types. Whether your hair is wavy, coily, curly, or another texture you can use our gel to keep flyaway hairs away and your edges looking even and smooth.
How does the edge gel contribute to preventing hair breakage?
Edge gel helps reduce hair breakage by keeping your edges smoothed down and even. When you don't have flyaways, your hair stays in place and doesn't get the damage it would otherwise experience. Your hair will be better protected from wind and you won't need to re-style it as much during the day, which will also help reduce breakage. Have questions or need support? Reach out to our customer service team. We're happy to answer your questions about our edge control gel and other great Kuza® products.
Why We Love It
When your style is on fire, you need your edges and fly away hairs to follow. This stay-put formula let's you control those unruly edges and fly away hairs to style the perfect look.
Tames unruly edges and holds them in place while moisturizing and adding shine to the hair
Smooths edges & controls frizz
Adds intense moisture, luster & shine
Non-flaky & non-greasy
Kuza® Hair Textures
Coily|Curly|Wavy
Kuza® Looks
Braid-Outs|Braids|Locs|Straightened/Silk Pressed|Twist-Outs|Twists|Wash 'n Go
Ingredients
Aloe Vera Juice|Argan Oil|Coconut Oil|Jamaican Black Castor Seed Oil
How to Use
Our Kuza® Jamaican Black Castor Oil Anti-Breakage Edge Control Gel is so easy to use. Just apply a small amount of gel by putting a dime-sized amount right on your finger. Then put the gel right where you want it to go, to keep edges smooth and stray hairs away.

You can also run a dime-sized amount along your hairline, smoothing flyaways with a comb or your fingertips. It works great for tapered areas, too.

If you want the very best results, use it on the edges where your hair meets your scalp for luster and long-lasting style you can enjoy and appreciate all day. It's the perfect choice for control of edges, tapered cuts, and any nape-side areas, and it works with relaxed and natural hairstyles.

Because it smooths edges and keeps them laying down, you'll want to use it anytime your hair needs a little extra hold. You can use this edge control gel every day, or on an as-needed basis for touch ups.


We work to ensure product information represents the best current information. Because products are being improved at times, actual product packaging and materials may contain more and/or different information than that shown on our website. We recommend that you do not solely rely on the information presented and that you always read labels, warnings, and directions before using or consuming a product. Content on this site is for reference purposes and is not intended to substitute for advice given by a physician, pharmacist, or other licensed health-care professional. You should not use this information as self-diagnosis or for treating a health problem or disease. Contact your health-care provider immediately if you suspect that you have a medical problem.