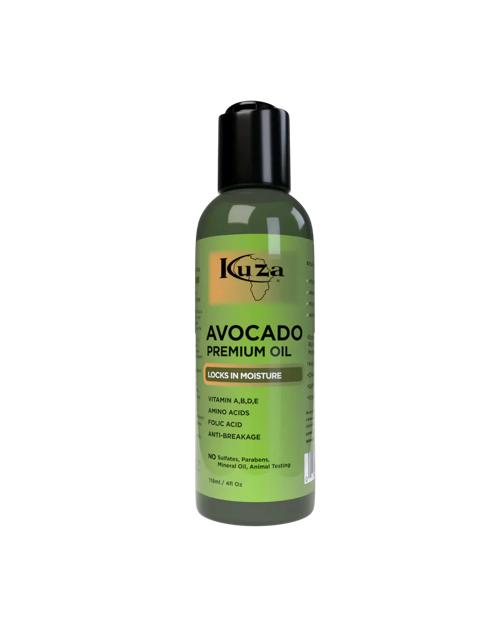 Experience the Nourishing Power of Kuza Avocado Premium Oil
Avocado is full of rich vitamins, antioxidants, and monounsaturated fats. Most people are aware of the health benefits of eating avocado, but did you know avocado oil is an amazing product for your hair? Avocado hair oil can help keep any hair type strong and healthy.
Our Kuza Avocado Premium Oil will completely revolutionize your current hair care routine. With daily use, your hair can feel stronger than ever before. You'll experience less breakage, resulting in smooth hair that is easy to style and smooth. Your scalp will also experience relief from dry, itchy areas. Kuza Avocado Premium Oil can even be used on the skin, providing nourishment for dry, irritated skin.
Hollywood Beauty®, the mecca brand of #yourfav oils presents the premium collection: hair and skin oils dynamically driven to combact dry, flaky skin and scalp.
Soothes and Conditions
Calms itchy scalp
Promotes healthier scalp/skin
Benefits of Using Kuza Avocado Premium Oil
There are numerous benefits associated with introducing Kuza Avocado Premium Oil into your hair care routine. Our hair produces oils designed to provide strength and shine. However, external factors can throw off the balance of these oils, leading to dry, brittle, unhealthy hair. Vegetable oils have proven successful in restoring hair health and strength. Avocado is one of the most popular options because of its various vitamins, minerals, and antioxidants. Benefits of using this product include:
Breakage Prevention- When your hair is dry and brittle, strands can break with ease. When you coat your hair with avocado oil, your hair becomes more flexible. This allows you to style with ease and confidence.
Reduced Dandruff- Dandruff is the product of scalp skin that is dry and flaky. Avocado oil can help reduce the appearance of dandruff. It can also provide much-needed hydration that will moisturize the skin. This promotes scalp health and prevents any drying or flaking.
Lasting Protection- Our hair can be susceptible to environmental damage, such as sunlight, chlorine, and pollutants that can dry the hair shafts. Certain methods of styling, such as using hot tools, can also cause damage without anything on the hair to protect it. Avocado oil can minimize the potential damage caused by external factors.
Detangled hair- Avocado oil can be used to protect hair when styling, as well as aid in detangling. This is ideal following a shower or when removing braids. All you need is a small amount to make brushing smoother.
Top Quality Ingredients
Our Avocado Premium Oil is loaded with exceptional ingredients carefully curated to provide improved hair health and appearance. Our top ingredients include:
Vitamin A- This ingredient promotes cell growth, which in turn promotes hair growth. It also provides oils that keep your scalp moisturized and your hair healthy.
Vitamin B- This vitamin helps to promote hair growth, especially for those who may have a deficiency.
Vitamin D- When you want hair that is thick and resistant to falling out, you need vitamin D. This vitamin plays an essential role in the creation of new, strong hair follicles.
Vitamin E- This is essential for promoting a healthy scalp through its amazing antioxidant properties.
Folic Acid- Folic acid is a must-have for quality hair care products. It helps increase the body's cell production, which in turn promotes hair growth and adds volume. It can even reduce the rate of premature greying.
Experience Top-Quality Hair Care
Kuza is committed to providing a wide variety of hair care products designed with you in mind. Our products are made with the best natural ingredients available. We carefully test our products to ensure that they can work on all hair types. Whether your hair is coarse, curly, wavy, thin, thick, or hard to tame, we have you covered. In addition to our Avocado Premium Hair Oil, we know you'll love some of our other popular products.
Enhance your hair's health and shine with our Kuza Jamaican Black Castor Oil Extra Dark. This caster oil is designed for all hair types and is packed full of key ingredients that promote hair strength and appearance.
Maintain your hair with our Kuza Beeswax Hair Braid Conditioner. For those who frequently braid their hair, this product is a must-have. You'll love how soft and secure your braids will feel. This conditioner helps to smooth and eliminate frizz and provides support for braiding as well as taking out braids.
Promote overall hair and scalp health with our Kuza Naturals 100% African Black Soap Fragrance-Free. This product is great for those who are looking to improve and maintain a healthy scalp and hair. This product promotes strength, shine, and can improve dandruff and issues with dry, flaky skin.
FAQs
Q1: Can Kuza Avocado Premium Oil be used on all hair types?
A: As a company, we are committed to ensuring our products can help improve the look and feel of all hair types. Whether you have curly, coily, wavy, straight, thick, or thin hair, you can add strength and shine through the use of avocado oil.
Q2: Is avocado oil good for the skin?
A: Yes! Kuza Avocado Premium Oil is the perfect addition to your skin routine as well! When you want to rejuvenate your skin, apply the oil directly and massage it in a counterclockwise motion. We suggest using daily to achieve lasting effectiveness.
Q3: How often should I use the avocado oil?
A: For best results, we suggest using avocado oil daily. Frequent use helps to ensure that the essential vitamins and folic acid used to create this product can fully penetrate the scalp and hair, helping to improve your hair from root to tip.
Q4: Has this product been tested on animals?
A: No, we will never test our products on animals. We are an ethical brand that uses supported, scientific methods to ensure our products perform as they should. Our products are also free of parabens, sulfates, phthalates, and mineral oils.
Testimonies from Real Clients
We value the feedback of our customers. This is the best way we can ensure that our products perform exactly as we say they will.
Avocado Premium Oil for Healthy Hair and Skin
If you're looking for a natural way to keep your hair and skin healthy, moisturized, and glowing, give our avocado premium oil a try.
Why We Love It
Hollywood Beauty® Avocado Premium Oils is locked and loaded with essential ingredients such as Vitamin A, B, D, E, and folic acid that aid in locking in moisture and nourishing the hair follicle. For best results, use daily.
Moisturizes
For Skin and Hair
Kuza® Hair Textures
Kuza® Looks
Ingredients
How to Use
Introducing Kuza Avocado Premium Oil into your hair care routine is simple and easy. To use, apply directly to the scalp and gently massage in a circular motion. This allows the oil to penetrate the hair follicle, providing lasting support and strength.
We work to ensure product information represents the best current information. Because products are being improved at times, actual product packaging and materials may contain more and/or different information than that shown on our website. We recommend that you do not solely rely on the information presented and that you always read labels, warnings, and directions before using or consuming a product. Content on this site is for reference purposes and is not intended to substitute for advice given by a physician, pharmacist, or other licensed health-care professional. You should not use this information as self-diagnosis or for treating a health problem or disease. Contact your health-care provider immediately if you suspect that you have a medical problem.